Paris Bike Tour wishes everyone Happy Holidays!
21 December 2017

/

parisbiketour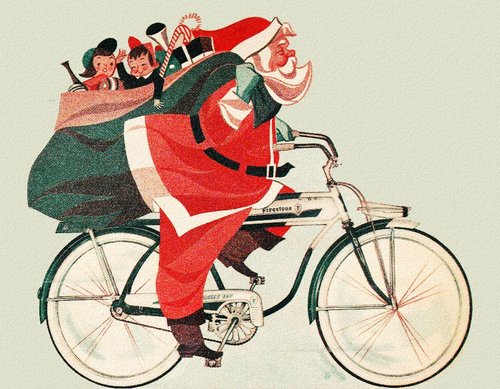 Beep! Beep! Warning! Warning! Christmas tree approaching! Final warning before impact!
If like most of us, you've never been a lumberjack or you're not the most experienced dog-sledder you can always adapt your bicycle to get into the spirit of the season. Improvise, get out the decorations, install the brightest flashing red light on your handlebars. Put on your mittens…and don't forget your wool socks: Let your Rudolph guide your sleigh tonight.
Here are a few places to go and get you ready for Christmas in Paris:
Stay more than warm in the 13e arrondissement at the le marché de Noël africain (African Christmas Market). Then head to les Invalides and explore a wide selection of arts and crafts. Follow the recently opened Grande Armée bicycle path and sharpen your blades for the skating rink: la patinoire du toit de la Grande Arche! For something more intimate follow the passage Choiseul and let your heart and eyes roam at Artavie. Then it's the Far North where the Grinch is waiting impatiently for you to try out the jeu de piste au Stade de France ! After that relax and enjoy the warmth of the Château de Vincennes: listen to the stories, marvel at the shows, and take part in the arts and crafts workshops. And no need to plan ahead: right next door, big and small will fall in love with the musée des Arts Forains and its Festival du Merveilleux –now available without reservations.
Rudolph : info
le marché de Noël africain : info
La patinoire du toit de la Grande Arche : info
Artavie : info
Jeu de piste au Stade de France : info
Festival du Merveilleux : info