Arrival of Tour de France with Paris Bike Tour !
22 July 2017

/

parisbiketour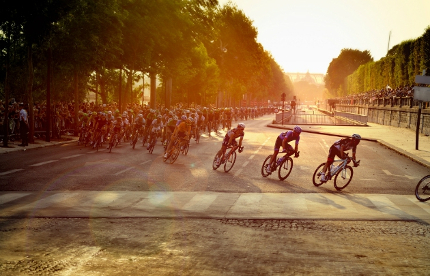 After all the drama, the brutal climbs, the crashes and the daring breakaways, this Sunday, July 23rd, Parisians, visitors, tourists and diehard fans are all invited to experience cycling's most legendary event as the final sprint of the 2017 Tour de France arrives in Paris.
The final stage (103K), the 21st, departs from Montgeron south of Paris (Essonne). In a tradition since 1975 the arrival of the 104th edition of the Tour de France follows the grandeur and ceremony of les Champs d' Elysées in a fast-paced parade of honour racing towards a finish line like no other.
Arriving in Paris, the Tour makes its entrance by the Porte d'Orléans around 5h30 pm, then along the boulevard des Maréchaux before connecting with les Invalides, le Pont Alexandre III et le Grand Palais. The famous final stage is made up of 8 laps from the Louvre to the Arc de Triomphe. You can also cheer and applaud the cyclists at place de la Concorde (exiting the Jardin des Tuileries tunnel) to the place de l'Etoile.
Once again the arrival of our favourite 'Frenchie' Romain Bardet is anxiously awaited. Will he succeed in dethroning the Tour's three-time champion Chris Froome and take his proper place at the top of the podium? We'll see Sunday!
WHAT TO KNOW
The Champs Elysées and the surrounding area will be closed to traffic from 9am to 11pm.
Passage of the caravan at Invalides-Grand Palais: 4pm
Arrival of the lead cyclists around 6pm.
Final Sprint: 7pm
To experience even more we offer by request a special 3-hour Tour de France visit.
Exploring the history of the Tour de France with stops at the key points on the final lap 'le Grande Boucle': Arc de Triomphe, Pont Alexandre III, place de la Concorde, etc.
Or rent a Bike if you want to wander at your own pace. Reserve now while there is still good availability.
Paris Bike Tour 13 rue Brantome 75003 Paris – +33 1 42 74 22 14