Visit Paris by Bike
with a guide
Experience the history, the stories and the pleasures of Paris. Each Paris Bike Tour brings you this and more. Three tours are regularly offered, exploring the streets and passageways of different parts of the city and showing you Paris from a different and unique perspective.
Our more-than-knowledgeable professional guides love to share their passion. They will reveal the most beautiful city in the world to you in a different way – away from where the usual tourist goes.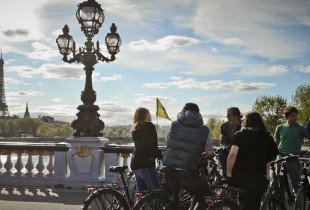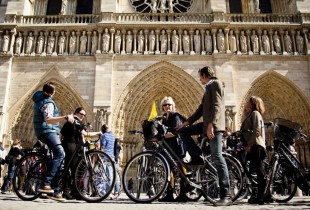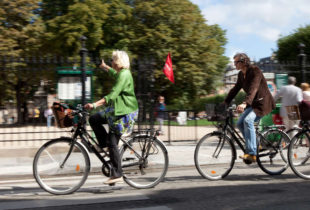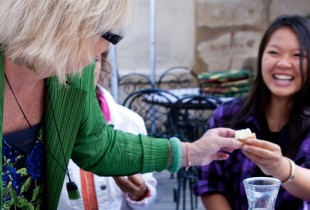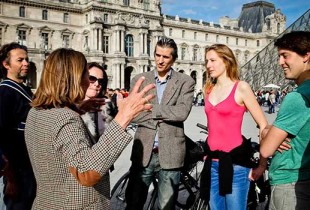 There's no better way to see the city than by bike. Go around the cars, take the bike paths, follow your guide, relax and live the moment. You're in Paris—the charm and eclectism of the city are legendary. There's more than a story around every corner. Your Conference Guide pulls back the layers of history, puts them back together again, brings them to life. There are so many stories, so real that they defy the imagination. You're in Paris.And history doesn't come in order. From Place des Vosges (1608) and Victor Hugo to Notre Dame where Napoleon ceremonially declared himself emperor, not far from Sainte-Chapelle where during the revolution Jesus' crown of thorns was whisked away. Then past the Conciergerie where Marie Antoinette passed her final days. More than just a bit of history but still so much more to tell. We leave it behind for now. Follow the Left Bank past the Pont des Arts—liberated from the weight of all those padlocks now. It became too dangerous, too risky to support all those vows of eternal love. But it didn't come to an end, the panels were carefully lifted away, the locks never cut. And they're stored safely now, protected from the elements and the currents of the Seine.
A stop is made. The Musée d'Orsay is beside you. "A restored train station," your guide explains; "the air clean and fresh now, the Impressionists no longer rejected."
And then you coast down the hill to the shore of the Seine. There are no cars here, no traffic, completely different. Runners, cyclists, babies pushed in carriages pass each other. The wind from the river takes you away from the city. But your thoughts stay behind, reliving what you have just experienced. You pedal easily and watch your guide far ahead but always connected, the tour group stretching out behind her. Finally you exit up a small hill and it appears: The Eiffel Tower. You stop and your guide explains, "It was built for the 1889 World's Fair, supposed to be temporary, loved and hated, sold for scrap metal and saved from destruction too many times."
You shake your head at yourself and notice the writing on your bicycle: Paris Bike Tour. Your guide nods and leads you to the next story. You're in Paris now; each stop is an adventure.