Welcome to the official site
Paris Bike Tour
Since 2002 Paris Bike Tour has been offering guided bike tours of Paris and the surrounding area lead by professional, knowledgeable and accomplished guides who are passionate about the most famous city in the world…Paris
A dynamic and innovative team has developed the savoir-faire to provide the highest quality services. Explore hidden passageways and discover Paris by bicycle.
Special "Paris Museum Pass"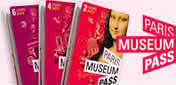 Our guided bike tours in Paris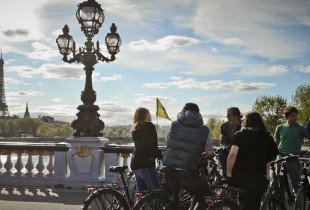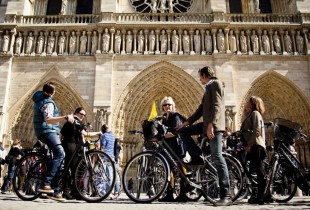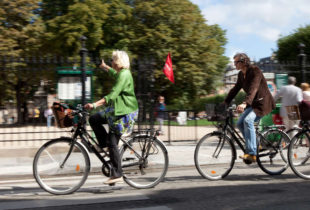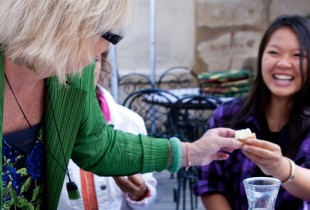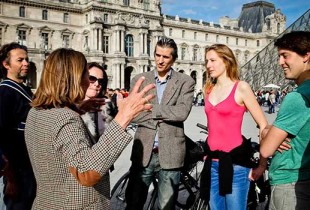 Companies and Businesses: Trust
your event

to Paris Bike Tour

With more than 15 years of experience in Bike Tours, Event Planning and Team Building, Paris Bike Tour has the expertise to create and design the most original key in hand events. From our 'Bicycle Rallies' to our 'Combo Tours' all of our events are lead by the skill and passion of our professional Conference Guides.

These tours/events successfully bring together history, stories and anecdotes in the most enjoyable, friendly and relaxing ambience.

Departures are from our agency situated in the heart of Paris, two steps from the Centre Pompidou. But thanks to our dellivery service they are also available from the location of your choice in Paris and the surrounding area.

Our latest news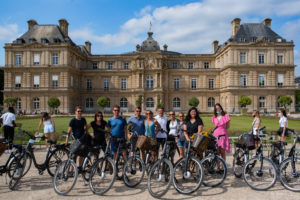 There's electricity in the air at Paris Bike Tour. This year we launch guided tours by electric bike. See more of Paris and enjoy the ride. In only 3 hours you will explore more of Paris than you ever thought possible. All this at an easy relaxing pace that everyone will enjoy. Travel through time and discover the endless secrets of the City of Light awaiting you around every corner. […]
Read more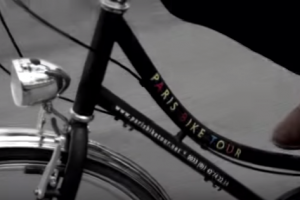 Discover the wonderful tours that Paris Bike Tour has to offer with our latest video! In this video, you'll hop along for a ride in the company of our knowledgeable, passionate guides Maeva, Veronika and Hélène who will take you on a true voyage through the streets of magical Paris. On comfortable bikes, you'll be able to admire the hidden secrets of central Paris in Paris Eternel, the beautiful and […]
Read more
Visit Paris by bike, the best way to explore the City of Light
Thanks to our dedicated and passionate multilingual team we offer a wide selection of tours adapted to every taste benefitting from the expertise of our professional guides opening the door to discovering more: Montmartre, centre Georges Pompidou, Paris by Night, the Heart of Paris, and the waterfront of the Seine. Whatever your interests, take time in the city of love to admire the iconic Dame de fer (The Iron Lady) and the pont Alexandre III while immersing yourself in the charm of the Marais and Place des Vosges.
Seize the moment, live the culture and life of the city with Paris Bike Tour. By bicycle, electric bike or on foot, support responsible tourism and enjoy a unique experience with our bike rental in Paris.
Make the most of your time in Paris, rent a bike
Paris Bike Tour also offers bike rental. Our bicycles are lightweight and comfortable, the best way to get around the French capital, allowing you quick and easy access to all parts of the city. There's too much to explore in Paris. But before you park your bike and descend to the Catacombs, go on two wheels and discover all the secret passageways from the Arène de Lutèce to the Louvre pyramid. No matter how short or how long your stay there's no better way to experience the City of Light. Visit our web-page to for more details on the offer that best suits your needs.
Bike tours for professionals
Available throughout Paris and the surrounding area our wide variety of outings by bicycle designed for team-building and incentive training are ideal for stimulating group cohesion and cooperation (theme-based tours, rallies, challenges…). Relax and let us take care of the details. We'll provide you with everything to develop and hone team skills, take initiative and be creative. Our logistical skills and flexibility offer made-to-measure tours/events responding to a wide range of needs and objectives. It's the most enjoyable learning experience. Nothing will be overlooked as you learn and build skills while being charmed by the most famous city in the world: Paris.